As part of the Year of Outback Tourism, the Queensland Government launched the $3 million Year of Outback Tourism Events Program.
In 2019 and 2020, grants have been available for new events or to extend existing events, which contribute to enhancing the profile of Outback Queensland and attract new or increase the number of visitors.
Event and festival promoters, local governments, community organisations and local businesses were invited to apply and help grow tourism in their local communities.
The first three rounds of events funded through the Year of Outback Tourism Events Program have been announced by the Premier, collectively amounting to more than $2.2 million in funding. Discover these events.
The fourth round is currently on hold. Please refer to this website for any updates or contact the team on (07) 3003 9200.
In Queensland, 2019 was the Year of Outback Tourism and the celebrations continue in 2021. This Queensland Government initiative reinforces the state's position as a world-leading tourism destination and supports economic, social and cultural growth in Outback Queensland.
This is an opportune time for outback communities. Each year, more and more local and international tourists are discovering the fun and far-flung events and festivals of regional Queensland. In 2019, the region welcomed more than one million visitors—the first time this significant milestone has been achieved.
The Year of Outback Tourism will see these numbers continue to grow in years to come and create sustainable jobs for people in the outback.
Outback Tourism Infrastructure Fund
The $10 million Outback Tourism Infrastructure Fund will help establish much needed tourism infrastructure in Outback Queensland. Fifteen projects have been awarded funding—from Adels Grove and Cobbold Gorge in the north, all the way down to Roma and Cunnamulla in the south.
Find out more about the Outback Tourism Infrastructure Fund.
Outback events and experiences
Visit Tourism and Events Queensland for more information on events and experiences in Outback Queensland.
More information about Outback Queensland
The Year of Indigenous Tourism
Building on the success of the Year of Outback Tourism, Queensland will celebrate the Year of Indigenous Tourism in 2020 and 2021. The Queensland Government has committed $3.4 million to further position the state as the nation's leader in Indigenous tourism, while creating more jobs for Aboriginal people and Torres Strait Islander people.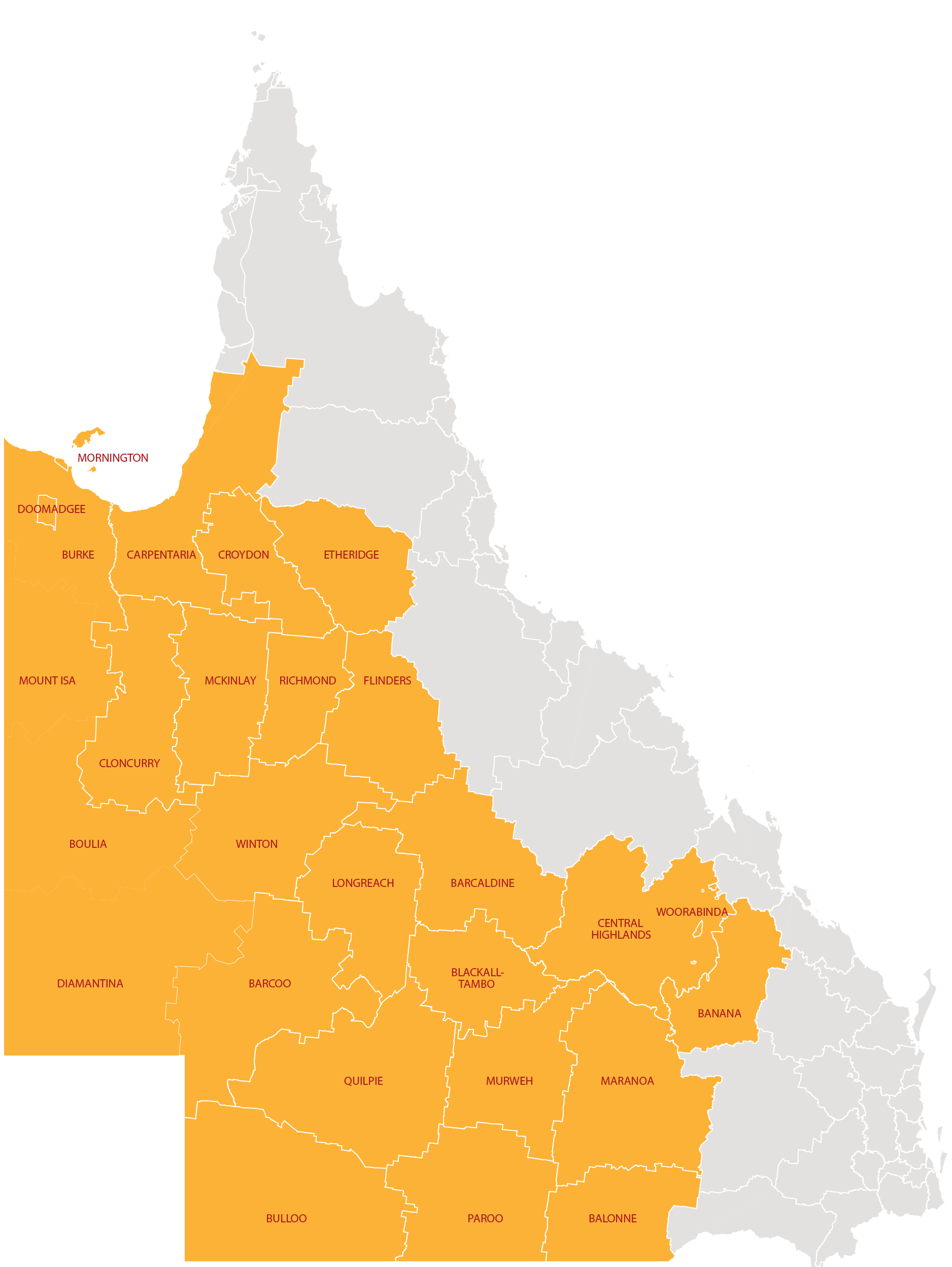 Click to enlarge
The following organisations were eligible to apply:
local councils operating in Outback Queensland
Regional Tourism Organisations
event managers and/or event promoters
incorporated associations or bodies
corporations including those operating on a not-for-profit basis
community and festival organisations.
Please note, for the purposes of this program, Outback Queensland is defined as comprising 27 local government areas (see map).
Eligible applicants must have a valid Australian Business Number (ABN) or Australian Company Number (ACN).
The following organisations were ineligible to apply:
state or federal government departments
individuals
entities without an ABN or ACN
political parties.
Applications for the Year of Outback Tourism Events Program are now closed. The fourth round is currently on hold. Please refer to this website for any updates or contact the team on (07) 3003 9200.
In rounds one, two and three, the program awarded more than $2.2 million to 54 festivals, sporting events, cultural experiences and more across Outback Queensland.
Discover the details of these events.
Due to the evolving restrictions as a result of COVID-19, please check individual websites for any updates regarding the status of events.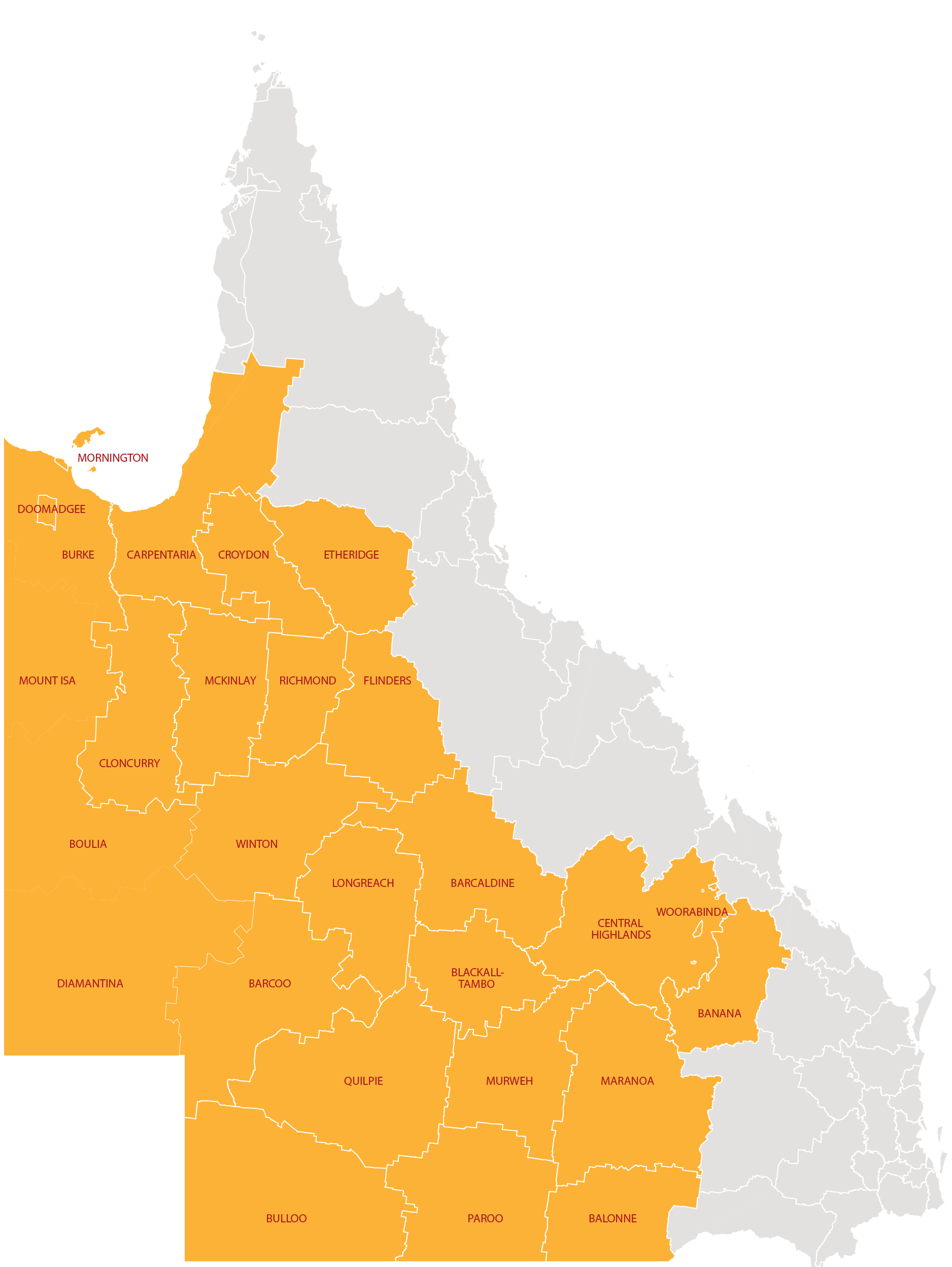 Click to enlarge
'Outback Queensland' is defined as the event host location within the Local Government Areas of:
Balonne Shire Council
Banana Shire Council
Barcaldine Regional Council
Barcoo Shire Council
Blackall–Tambo Regional Council
Boulia Shire Council
Bulloo Shire Council
Burke Shire Council
Carpentaria Shire Council
Central Highlands Regional Council
Cloncurry Shire Council
Croydon Shire Council
Diamantina Shire Council
Doomadgee Aboriginal Shire Council
Etheridge Shire Council
Flinders Shire Council
Longreach Regional Council
Maranoa Regional Council
McKinlay Shire Council
Mornington Shire Council
Mount Isa City Council
Murweh Shire Council
Paroo Shire Council
Quilpie Shire Council
Richmond Shire Council
Winton Shire Council
Woorabinda Aboriginal Shire Council.
The Year of Outback Tourism Events Program differs from the QDEP program via:
Year of Outback Tourism Events Program
Queensland Destination Events Program (QDEP)
Event type
New or extend existing events in Outback Queensland
Criteria to enable eligibility status
Event host location
Outback Queensland only
Statewide
Funding amounts
Available funding between $1000 to $100,000
Available funding between $10,000 to $25,000 (Destination Event Funding) and $25,000 to $100,000 (Significant Event Funding)
Funding ratio
Up to 50% of total event budget can be applied for
Up to 25% of total event budget can be applied for
Eligible costs
Broader scope of works to include audio hire, headline artists etc. See an indicative list of eligible items.

Eligible costs

Marketing and advertising (e.g. advertising, promotional collateral, marketing activities, public relations, graphic design, associated printing costs)
Salaries/wages for tradespeople, professionals, external suppliers and short-term personnel (with a valid ABN) who are engaged to deliver the project
Transport—bus/coach hire if reasonable and integral to the project
Bands and musical accompaniments, speakers, artists, performers and other fees associated with securing event talent and content
Freight (must be directly related to the event)
Interpretive/information signage/installations
Venue and equipment hire (external to the applicant organisation) including audio, visual, rigging, generator hire, fencing, toilets, traffic management, hire equipment (marquees, chairs, tables, staging), waste management and wet weather contingencies
Capital expenditure relating to the purchase or upgrade of assets for ongoing use by the organisation that will continue to drive economic outcomes for this host community e.g. toilet blocks and lighting towers.

Predominantly marketing, strategic plans, short‑term specialised personnel, temporary infrastructure
Responsible agency
Department of the Premier and Cabinet
Tourism and Events Queensland
The Queensland Government recognises the importance of event tourism. There are a number of available options for your event that include:
Yes. Program funding is available for specific purposes. For example, you may receive funding from Tourism and Events Queensland of $15,000 for a tourism consultant to produce a strategic plan, and you may receive $50,000 in funding from the Year of Outback Tourism Events Program for multiple headline artists to drive attendance to your event.
Yes. You may receive funding in each round. However, only a maximum of $100,000 program funding, per event.
For example, if you host an annual event, you are entitled to apply for up to $100,000 in funding for each year.
The application must be for between $1000 and $100,000 (exclusive of GST). The program may provide a maximum of 50% of the event budget.
A budget template is provided in the guidelines and as part of the application process. Use the template to itemise:
the applicant's contribution
the project's total income (detailed by local or federal government funding, donations, ticket sales, value-in-kind and cash sponsorships)
all expenditure (including what the requested money will be spent on. Any information including quotes are useful).
The applicant must provide a comprehensive breakdown incorporating all income and expenditure. To demonstrate that all costs have been considered, total revenue must equal total expenditure in the budget. The project budget is part of the assessment criteria and needs to be accurate. Please note all costs must be listed as GST exclusive.
Yes, the Year of Outback Tourism Events Program was previously known as the Premier's Outback Events Program. The name changed in May 2019 to better align with the broader suite of Year of Outback Tourism initiatives.
Applicants do not need to be registered for GST. If applicants are GST registered, 10% GST will be added to the grant amount. Applicants who are not GST registered will have the opportunity to apply for reimbursement of the GST incurred by the organisation for agreed expenditure items as listed in the funding agreement (up to 10% of the funding support).
For advice on GST, please contact a tax advisor or the Australian Taxation Office on 13 28 69 or via its website at www.ato.gov.au.
The taxation implications of any payments made to an applicant under the program may differ depending on the applicant's circumstances. The Queensland Government is unable to provide taxation advice and accordingly recommends consulting your own professional adviser to determine any taxation implications that may apply.
The Australian Taxation Office has publicly available guidance that may also assist you. This information can be accessed via its website at www.ato.gov.au. For example, guidance in relation to GST treatment of financial assistance payments can be found in GST Ruling 2012/2.
If an organisation is unable to complete the project or wishes to withdraw from funding for any reason it must notify the Events and Engagement Unit, Department of the Premier in Cabinet, in writing as soon as possible. Contact should be made via email at
outbackevents@premiers.qld.gov.au
.
Each application will be assessed in line with the eligibility and assessment criteria. Applications may be verified with relevant organisations such as landowners, Regional Tourism Organisations and local councils. The application is also subject to due diligence checks.
Funding will not be granted retrospectively.
If you wish to progress with expending the items proposed in your application, your organisation must be willing to underwrite these costs should your application not be successful.
For any queries, please contact Events and Engagement, Department of the Premier and Cabinet, by email at outbackevents@premiers.qld.gov.au or on telephone (07) 3003 9200.